Quick front yard makeovers are trending lately, as they give your property a look that you love with very little effort. It's a rule of thumb that if you want to upgrade your home's appearance, start with the yard. With a small budget and minimal outside assistance from a professional, you, too, can have the yard of your dreams this season quickly and affordably.
Below you will find eight great ideas to give your yard a boost for fall. The list includes both back and front yard ideas, and it gives you the information needed to create long-lasting solutions that you can continue implementing year after year.
"Keep your face always toward the sunshine - and shadows will fall behind you." – Walt Whitman
Update the entryway of your home with new lighting
The front of your home is something that people see regularly. They drive and walk by it daily. You can make your home feel more seasonal and welcoming with porch lighting installation. It's the first thing that many people notice about your home.
Add a swing for the kids to enjoy
A beautiful swing hung from a tree, or a backyard swing set provides hours of outdoor fun. It's the perfect way to spend a clear autumn day. Your kids will love having access to their swing to use daily. It's a simple addition to your yard worth every penny you spend on it.
If your budget can accommodate something bigger, building a treehouse for your kids can also be a great project. It encourages them to spend more time outside, providing a safe space to play.
Give your garden a makeover
Fill your garden spaces with new flowers and greenery. Choose ones that can withstand colder temperatures, or place them in a container that you can easily move if necessary. That way, they won't wither and die when the temps drop. Instead, you'll have a beautiful garden to enjoy throughout the season.
Give your vases, planters, and containers a facelift 
One of the top fall landscaping maintenance tips is to use what you already have on hand. Give your container garden a makeover, and give your old planters a fresh coat of paint. Use the pots that you own to plant some new flowers and vegetables. 
You can even decorate the containers to make them feel more like autumn, just like in the image above! 
Plant a fruit tree
Although it takes several years for fruit trees to grow, fall is the perfect time to plant them. It gives them an extra growing season before the stress of summer, and allows them to establish their roots during winter. 
Besides, you'll feel good about your decision to plant trees because they'll eventually provide you with a large supply of fruit year after year, as well as a nice shade spot to enjoy. 
Warm up your deck or patio
Building a fire pit in your deck or patio makes it possible for you to spend more time outdoors once the weather changes. When the temperatures drop and you want to be outside, you can. 
Just sit around the fire and let its heat warm you. It's a wonderful way to enjoy your yard more throughout the year, and it's also an extra space to spend time with your family and friends.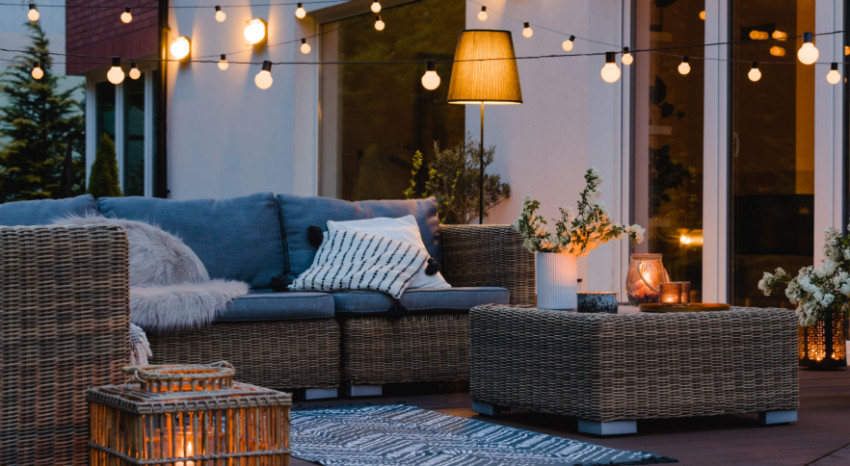 Add warmth and color with throw blankets
It's a small investment to create the type of mood you want to convey during the season. Sitting outdoors with your family and friends becomes much more comfortable when you have various comfy throws to use. 
You can pick ones based on their colors, textures, and patterns to make them feel more appropriate for fall. Ensure you have somewhere safe to store them, so the blankets don't get wet or dirty while not in use.
Create an outdoor workspace so you can enjoy the crisp air
There's a lot to be said about working outdoors. 
It gives you a fresh perspective. 

It allows you to breathe fresh air and listen to the sounds of nature. 

Some of your greatest inspiration likely comes from being outside. 
Find a place to set up a desk and change up your workday routine regularly. This is not only a good idea for those who work from home, but also for kids who need a space to concentrate on their studies. 
The ideas listed here require minimal assistance. They're easy to implement and change when winter or spring arrives. You can take what you've learned here and apply it to the many different ideas you have for your yard!
Get Help with Your Biggest Projects
Fall lawn care services provide you with the help that you need with your property. When you want to entertain more complicated yard ideas, you can consult a professional to help you decide and plan for the project. They can help you make your ideas a reality and get your yard ready for the season.
Reaching out to a professional for advice is imperative as it makes those hard-to-do jobs easier to plan. Before you do something that could be considered dangerous, consult a contractor for advice and see if they're able to help you with your fall yard decor first.
A green lawn can do wonders for your curb appeal. Contact a local pro and request a free quote for lawn care services!
---
MORE FROM HOMEYOU
Everything You Need To Know About Heated Driveways
Fall Home Maintenance Guide: Only What You Really Need!
Our Favorite Fall Decorating Ideas
Join the conversation