Every year, new trends emerge and dominate kitchens. For 2023, homeowners have been investing more in kitchen renovation and remodeling projects, with an emphasis on more cost-effective and sustainable items. 
Discover 7 kitchen remodeling trends that are popular right now and will be trending this year, giving you a selection of interesting options to consider for your next project.
Sustainable Options
As previously said, most homeowners have been opting more for sustainable options. Eco-friendly, energy and water-efficient options are becoming really popular currently since homeowners can save money over time as they also save water and energy. 
Many researchers say most homeowners look for sustainable options over new common appliances and features. And it's a great deal: you invest in a new sustainable option that improves your quality of life while saving you money and energy in the process. It's a win-win.
Swapping Cabinet Types
In kitchen renovationa, the majority of homeowners choose to exchange their cabinet style. By numbers, the shaker-style cabinets have been dominating kitchens for a while, being the most popular choice among homeowners for months, but it declined 3 points in popularity compared to 2022.
A style that has seen a rise in popularity is the flat-panel cabinet. One in five homeowners chooses this sleek cabinet style for their kitchen remodeling, making it a rising trend for 2023. 
Recessed Lighting
Recessed lighting is a type of light where the bulbs are installed inside a surface, like the ceiling or walls. They are mostly designed to provide sleek and polished finishes in a kitchen. Their housing and electrical wiring components are hidden, and the bulb glows from within the opening.
Previously, the most popular lighting searched for by homeowners was under cabinet lighting, which is still a great option to improve your kitchen lighting. However, recently recessed lighting popularity increased considerably, this way taking the number 1 spot. Plus, recessed lighting can be installed virtually anywhere in your home if you end up liking it. 
Family Focus
Cozy seats, spacious island, long dining table – a kitchen design that focuses especially on family spaces. This trend prioritizes comfort and space for your family, providing enough space for each member, ample room for walking, and easy-to-reach cabinets.
This trend turns out to be more malleable than others, as it's more about adapting to what your family needs rather than sticking to one particular style.
Wood Cabinets
Usually part of the traditional, farmhouse, and country kitchen styles, wood cabinets are a timeless trend, popular anytime, and never out of fashion.
Desired for the sturdy material and beautiful tones, you can go a long way with wooden cabinets. Colors such as brown and beige are considered neutrals, which are perfect for creating a style that will never look outdated.
High-Tech Features
With the world changing and technology developing, home improvement trends follow the rhythm. Many homeowners opt for having high-tech features and appliances, such as smart refrigerators and touch-only faucets, as they provide modern and efficient features for the kitchen. 
Although high-tech appliances may increase the kitchen remodeling cost, they can also turn out to be useful kitchen design tips, since they improve your quality of life, comfort, and productivity during a daily routine.
New Silhouettes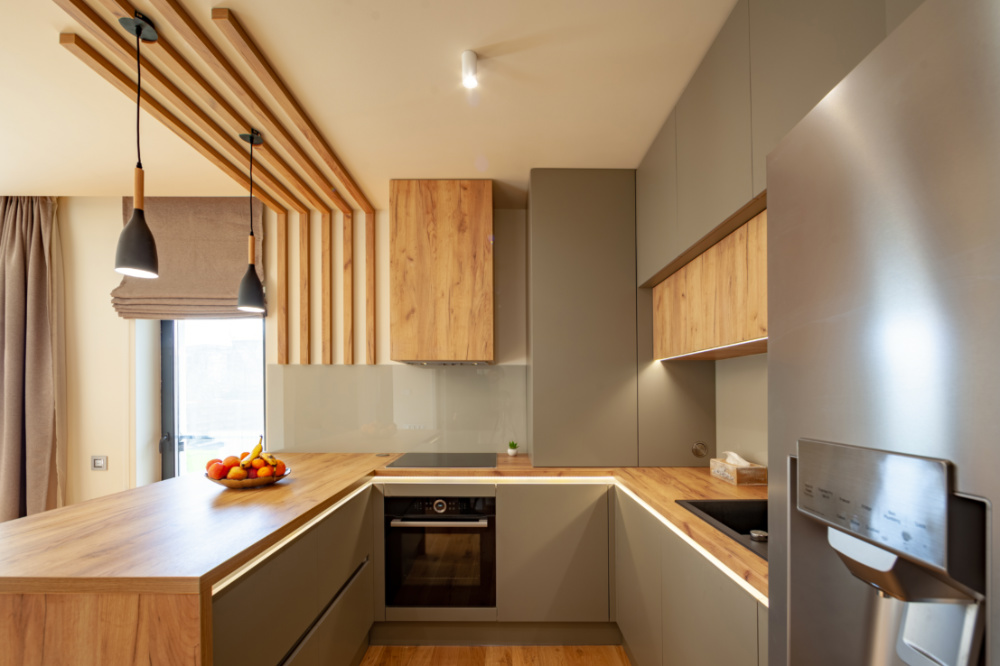 For one of the most interesting 2023 trends, you should consider silhouettes for your kitchen design. Shapes are one of many trends ready to become popular during this year, as they can be used to highlight an area, outline room limits, or simply serve an aesthetic purpose.
New shapes and forms can be designed and placed specially in areas such as ceilings and floors, creating a unique look that should stand the test of time until your next kitchen remodel.
If you're looking into kitchen remodeling, you can get free quotes from kitchen remodeling pros in your area today!
---
MORE FROM HOMEYOU
How To Save Money on Kitchen Cabinets
How To Remodel Your Kitchen: From Planning to Execution
5 Low-Cost Ideas for a Kitchen Remodel on a Budget
Join the conversation