Using backyard landscape lighting ideas to enhance the beauty and comfort of your outdoor space is a smart and elegant decision. You can go for lightning around the fence, the gazebo, the fire pit, the trees, the deck, the patio, and in poles, or solar lighting, flood light, etc.
Your backyard is more than just an outdoor space – it is an extension of your living area, a canvas awaiting your creative touch. Lighting plays a pivotal role in setting the ambiance and enhancing the allure of your outdoor oasis.
Whether you are hosting gatherings, seeking a tranquil retreat, or simply looking to enjoy your yard after sunset, we present to you nine ways to use lighting in your backyard. Discover a symphony of lighting ideas that will elevate your outdoor space experience to another level.
9 Backyard Lighting Ideas To DIY
With the following ideas, you will turn your outdoor area into the best place in the house and make it into a cozy backyard living space!
1.  Backyard Fence Lighting Idea
Elevate your boundaries with luminous elegance and turn your backyard fence into a mesmerizing focal point with strategic lighting. Line the perimeter with discreet LED strips or lantern-style sconces to create an enchanting border that welcomes both residents and guests.
2.  Backyard Light Pole Idea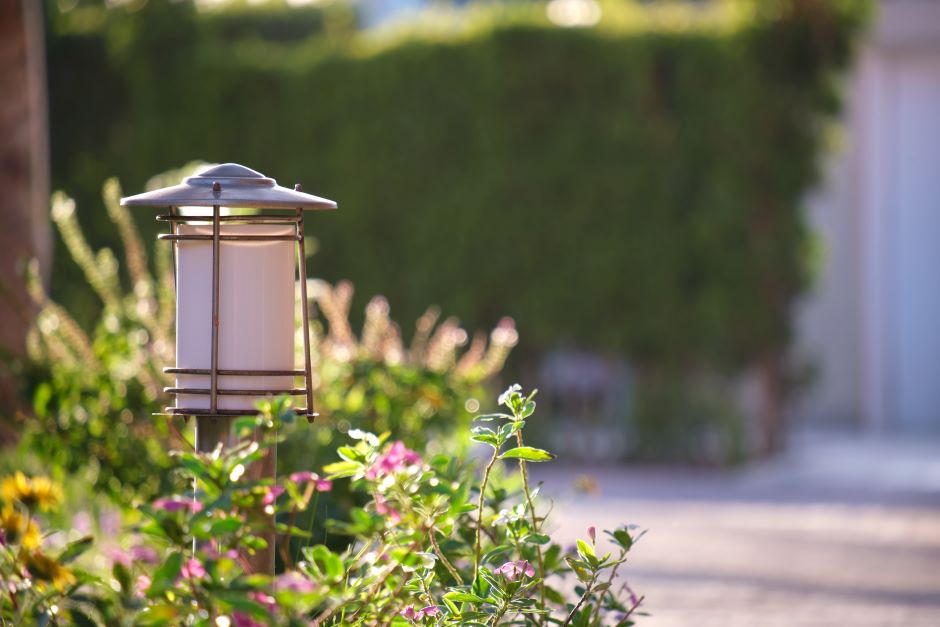 If guiding lights for charming pathways are what you are looking for, know that light poles are not just for street corners. Install decorative light poles along pathways to evoke a romantic, old-world charm. Use soft, warm lighting to guide footsteps and make evening strolls a delightful experience.
3.  Backyard Solar Lighting Idea
Sustainable radiance where you need it! Harness the power of the sun to infuse your backyard with eco-friendly illumination. Solar-powered lights can be staked along flower beds, nestled into shrubbery, or hung from trees, giving your outdoor space a touch of magic without increasing your carbon footprint.
4.  Backyard Flood Light Idea
Bold beams for enhanced security and aesthetics: illuminate large areas with grace and efficiency using floodlights. These versatile fixtures not only provide security but also create dramatic highlights, turning your yard into a captivating stage that shines even in the darkest hours.
5.  Backyard Gazebo Lighting Idea
Looking for a canopy of radiance for evening escapes? Enhance your gazebo charm by adorning it with delicate strings of fairy lights. Whether draped around the beams or woven through the lattice, these lights create a captivating celestial ambiance, turning your beautiful gazebo into an intimate haven.
6.  Backyard Fire Pit Lighting Idea
Glowing conversations around the fire: evoke the primal allure of firelight by strategically placing lighting around your backyard fire pit. Soft, warm lights in nearby vegetation or recessed in the ground cast a gentle glow, creating an inviting atmosphere for heartfelt conversations and marshmallow roasting.
It is a perfect backyard lighting idea for a party, right? Your family and friends will love hanging out at your place during the evenings.
7.  Backyard Tree Lighting Idea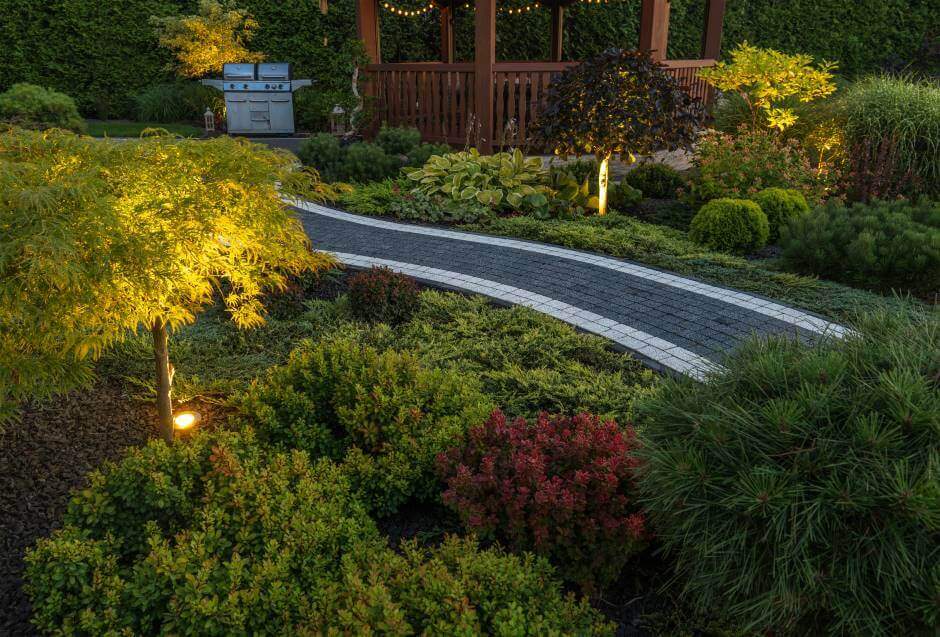 Mesmeric radiance dancing among the leaves by turning your trees into enchanting sculptures with skillful lighting. Uplights nestled at the base can cast elegant silhouettes on foliage, while string lights wrapped around branches weave a dreamscape of twinkling wonder overhead.
8.  Backyard Patio String Light Idea
Cascading sparkles for intimate evenings are a must-have on your patio. String lights are not just for holidays; they are a versatile tool for transforming your patio into an alluring haven. Hang them above your seating area to create an inviting canopy of soft light that is perfect for unwinding after a long day.
9.  Backyard Deck Lighting Idea
Sleek brilliance to elevate your deck and give it a modern edge with recessed deck lights. You already know the benefits of adding a deck to your home, right? Now, these discreet fixtures not only ensure safety but also add a touch of sophistication. Combine them with under-railing lights to infuse your deck with a warm, welcoming glow.
Illuminate your space with these captivating backyard landscape lighting ideas and watch your new favorite spot create the coziest ambiance. Embrace the creative possibilities, and call homeyou's landscapers to let your backyard shine brilliantly.
Join the conversation