While designing or renovating your kitchen, you may end up facing the doubt: should I go for a walk-in pantry, or settle for cabinets? Each one provides different features and suits different needs, so it's important to know which one is the best for you and your house.
Deciding which you should go for is not only a matter of space but also of lifestyle. Below you will find out how they are designed, their pros and cons, and in which situation would be better to have a walk-in pantry vs cabinets.  
"Everything happens in the kitchen. Life happens in the kitchen." –Andrew Zimmern
Walk-In Pantry
A walk-in pantry can easily be described as a closet space added to a kitchen to store small appliances, dry goods, groceries, and beverages. They're often known and chosen due to their storage capacity and organization. Check below the most common walk-in pantry pros and cons:
Pros
Plenty of storage space: one problem you rarely face is lack of space, since walk-in pantries are rooms designed exclusively for storing dry goods, beverages, and kitchen equipment.
Optimize kitchen organization: with a walk-in pantry, you can separate goods into categories and use baskets and organizers to keep everything easy to find. For example, you can separate your baking ingredients from the dry goods you use daily, keeping your kitchen mess-free.
Highly versatile and customizable: walk-in pantries can easily be customized to serve your specific needs. Aside from choosing how the built-in shelves will be set up, you can also add hooks, racks, baskets, or even leave bigger niches to store small appliances or kitchenware you don't use often.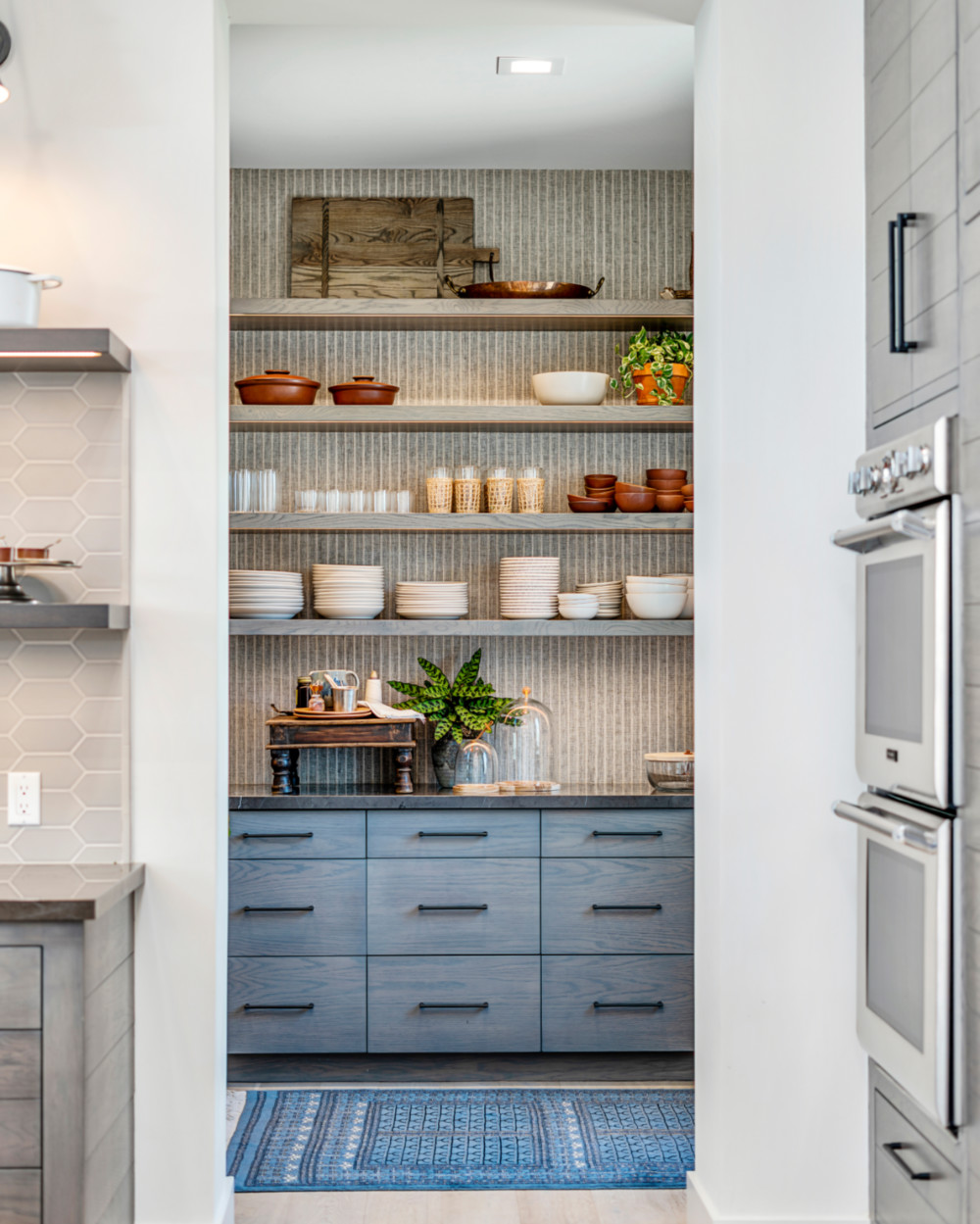 Cons
Take a lot of space: as previously said, walk-in pantries are rooms added to kitchens, thus they take valuable floor space, even if you choose to build a small one. It may cut into space you need and can't do without.
Aren't really effective when it comes to quick meals: the goods and beverages you need are considerably far away, which turns out as a delaying aspect when preparing quick meals. It can become inconvenient to have your storage spread out and out of easy reach. 
They require upkeep: it's common to get home tired after a grocery shopping trip, so many people just dump the packages on the shelves without organizing, creating a mess that will take a lot of time to sort out. You will always spend some extra time putting things away.
Cabinet Pantries
A cabinet pantry is just a simple kitchen cabinet with the exclusive purpose of keeping grains, canned food, baking goods, etc. 
Different from walk-in pantries, cabinet pantries won't take added space to be installed. They are basically large cabinets you could choose to install anywhere in your kitchen.
Pros
Closer to the kitchen: in contrast to walk-in pantries, cabinets are often located near the stove, oven and sink, making their use more practical and accessible.
They don't take much space: cabinet pantries often don't take any more space than a portion of one of your walls, saving you valuable kitchen floor space
Focused organization: since walk-in pantries have walls of cabinets and shelves, a smaller storage space might be better if a centralized pantry is important for you. This way, you're more likely to find whatever you want easier. This is especially important for working couples that don't have or don't want to spend extra time organizing pantry shelves. 
Cons
Limited storage space: as they occupy less space than walk-in pantries, they also have less space for storage, which might be an issue if you have a big family and you're used to storing many things.
Occupy some of your kitchen cabinets: even though they occupy a small space in your kitchen, you'll certainly lose storage space that could be used for kitchenware and small appliances, which can be a big issue if you like to have specific appliances and cookware for your meals. 
What to Put In Pantry vs Cabinets
Since they provide different features and proportions, they would also provide different storage capacities, and that's one of the main aspects you should consider in order to choose between a walk-in pantry or a cabinet pantry.
In cabinets, you can store pans, cooking utensils, cookware, spice ranks, trays, and small appliances you use often such as toasters, coffee makers and mixers.
In pantries, you can store grains, pasta, baking goods, canned goods, oil & fat, dried herbs & spices, jars, condiments, beverages and produce. 
Cabinet pantries aren't necessarily small, but they certainly aren't as large and spacious as a walk-in pantry. They can also be used to store kitchen products and appliances, at the cost of wasting limited space.
In contrast to that, some walk-in pantries are so big that there may be space for large appliances too, such as microwaves, juicers, etc. 
Looking for the perfect pantry? Contact a local custom cabinet installation company the create a corner that will fit all your needs!
---
MORE FROM HOMEYOU
7 Useful Tips For Organizing The Pantry
8 Ways To Add More Pantry Storage To Your Home
7 Potential Storage Spaces You're Not Paying Attention To
Join the conversation